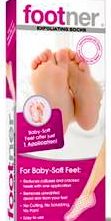 Most people don't pay their
feet
enough attention and we get a build up of
hard skin
that is often
difficult to remove
without visiting a
podiatrist
or
pedicurist
. For
busy mums
taking time out for
beauty treatments
which can be expensive isn't an option, so products that can be
used at home
are a real boon.
Footner Exfoliating Socks
offer a single application to remove
hard skin
. The socks are slipped on the
feet
and fastened with a tape. I didn't find the tape very effective and resorted to some Cellotape. You the don some socks and wait an hour for the o do their work.
Afterwards you
wash your feet
in warm water and then wait.
It takes five to ten days for the
skin
to begin
peeling
and it isn't a very pleasant sight (as critical daughter constantly pointed out!). The
peeling effect
can last up to two weeks. On my feet the
peeling
began at five days and lasted about a week. Dring this time you should not apply
moisturisers
.
Unfortunately I didn't read through to the end of the
tips
(not very clear on the box) and missed the advice to
apply Vaseline
to areas you didn't want to
treat
. Thinking about this, I think I'd prefer a
product
that you could
apply
to the actual
hard skin
rather than the whole
foot
.
However,
Footner Exfoliating Socks
did their job and most of the
hard skin
was removed. Obvioulsy if you are treating your
feet
before a special occasion or before a
holiday
you should
time your application
about a month previously.
PWT rating
: ♥♥♥♥♥
Footner Exfoliating Socks
cost £19.99 and are available from
Boots
and
Boots online
.