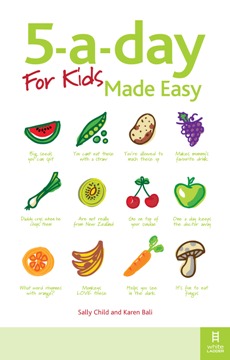 I have enjoyed reading
5-a-day For Kids Made Easy
which is full of
good ideas
, and some very interesting
recipes
. It isn't all new, in fact it is mostly
reiterating
what most of us know and
try to do
with our own children. However it is useful to have so many
handy hints
and
practical advice
all in one smallish volume.
There are
no glossy pictures
which I like. I sometimes feel that
glossy pictures
make the recipes
less accessible
as the food
rarely resembles
what you see on the page. The
chapters
are laid out in easy-on-the-eye paragraphs,
bullet pointed
sections and
tips and hints
in shaded boxes. There is a balance between
common sense
advice and
evidence based
science.
The
habit and psychology
section was particularly
interesting
. My own daughter of 12 years
does not eat any fruit
at all except a
slither of apple
once a week. I wish that I had
persevered
more with her when she
started to refuse
when she was a
toddler
. I put it down to
genes
– her father only eats
apples
and bananas, but her
aversion
is now firmly
cemented
.
The
recipes
are big on
hiding and disguising
vegetables, but one of the
early chapters
does talk about the
importance
of coming clean with your
children
, as they begin to
understand
more about their
health and wellbeing.
I am
looking forward
to making the
cheesy broccoli muffins
(will they be green?) , the
rainbow chips
– aka roasted
vegetables
cut into chip like strips (with the
homemade ketchup
, of course) and the
creamy leek croustade
.
My
daughter
is toying with the idea of trying
rhubarb
, so I will make her the
rhubarb and elderflower syrup cake
, which I can
always ea
t if she changes her mind !
A
highly recommended
book to have at home for ideas, recipes and reference,
5-a-day For Kids Made Easy: Quick and Easy Recipes and Tips to Feed Your Child More Fruit and Vegetables and Convert Fussy Eaters: Sneaky Ways to Feed Your Children Healthy Food
is available from
Amazon.