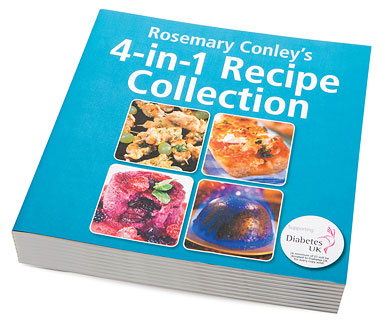 Rosemary Conley 4 in 1 Recipe Collection combines four of Rosemary Conley's books into one collection and contains an excellent selection of low fat, healthy recipes. Sections included in the book are "Around the World", "Low Fat Vegetarian", "Slim Down for Summer" and "Countdown to Christmas".
There is also a brilliant section at the front of the book on suggested Power Snacks – to fill that gap mid-morning and mid-afternoon – each only containing around 50 calories.

The recipes that I've tried are all easy to follow and I particularly enjoyed recipes in the "Around the World" section which included very tasty, low fat versions of my favourites such as satay and Thai curries. Again, the recipes in the vegetarian section were easy to follow and quick to cook with a great choice of pasta and noodle dishes as well as a good selection of recipes for light meals. As summer has now hopefully arrived, I'll be cooking from the "Slim Down for Summer" recipe selection, which includes recipes for BBQ's and picnics and easy recipes for whern you're entertaining .

Rosemary Conley 4 in 1 Recipe Collection is an excellent book for a household where meals have to cater for those who want to watch their weight as well as those with dietary requirements, such as diabetics.

The best bit about this book, apart from the recipes, is that a minimum of £1 from the sale of each copy will be donated to Diabetes UK. At £10.99 the book represents great value and is a good addition to everyone's collection of cookery books.