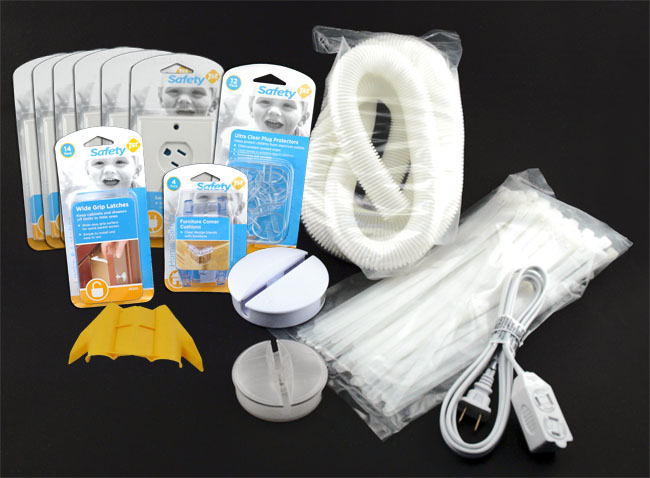 Safe as houses, it's one of those phrases that becomes more pertinent when you become a parent. Feeling safe in your home is important as it helps to keep you happy and healthy. Whether it's fitting a safety gate on your stairs or covering sockets safety has many sides.
The cableorganizer.com Child Safety Kit arrived with over 100 individual pieces to "safeguard your home and keep your children safe". The kit includes items one would expect, such as latches to keep cabinets and drawers safe, furniture corner covers and socket protectors as well as electrical safety and cable management specialities which are less common.
This American kit available exclusively on-line from the cableorganizer website and it's French subsidiary site came packed with wire loom, cable ties and cord-its which allow you to cover and wind up your cords and cables to keep them out the reach of curious toddlers and babies.
The products have been designed so as not to deter from interior décor. Corner protectors are clear to blend in with furniture as are the socket protectors which appear invisible. All cable ties, cord-it winders and wireloom are white or clear to simply fade into the background.
As well as avoiding obvious electrical risks from sockets, the pack includes everything you need to prevent babies and children from tripping over cables or pulling electrical devices over onto them by winding up extra cord length. The wireloom is also designed to prevent babies from chewing on electrical cables by casing it in a cable tidy.
Child Safety Kit is obviously aimed at the US (and possibly French and continental Europe market). The socket covers are two rather than three pin so not useful in the UK. Safety in the home is essential and something none of us can ignore.
Child Safety Kit retails at $57.84 and is available online at http://cableorganizer.com/child-safety-kit or order via toll-free telephone at 1-866-222-0030.
CableOrganizer.com is offering a 15% discount until 30 September.