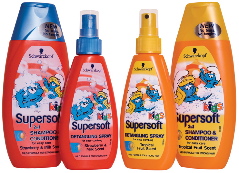 Schwarzkopf, manufacturers of Supersoft Smoothies shampoos and conditioners, have launched Supersoft Kids, a hair care range specifically designed for children, with an intensive Care-Vitamin complex.

The launch of Supersoft Kids coincides with the 50th birthday of the Smurfs, the loveable blue creatures who've endeared themselves to generations of youngsters and parents alike. The packaging sees pictures of jolly, hair-washing Smurfs adorn the brightly coloured bottles of the new range.

Available in two scrumptious smelling flavours, Strawberry & Milk and Tropical Fruit, the new 2in1 shampoo & conditioners are specially formulated to gently yet thoroughly cleanse, care and strengthen children's hair. With its mild formulation, skin friendly pH and double anti-tear effect, Supersoft Kids sees the end of hair-washing dramas and protests.

The range also has two detangling sprays, again in each flavour, for after washing, to ensure easy combing and smoother hair, which means no more painful tugging at knots and tangles – particularly useful after a trip to the swimming pool! Both detangling sprays have the intensive Care-Vitamin complex and mild formula to strengthen and care for children's hair.

New Supersoft Kids 2in1 shampoo & conditioners and detangling sprays are priced at £1.69 each. The range is available nationwide, call 0800 328 9214 for stockists.

To win the 2in1 shampoo & conditioners and detangling sprays simply answer the question below:
Which anniversary are the Smurfs celebrating?
Email your answer by 27 August. The winners will be the first 15 correct answers opened at random.