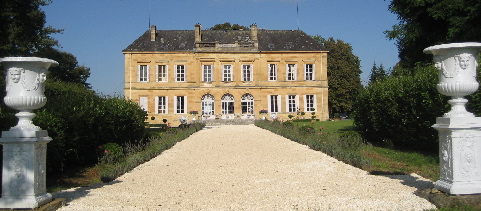 Do you dream of having a huge house party with family and friends to commemorate a particular occasion – birthday that ends in a nought, a special anniversary or celebration? Often finding a venue is the problem – prohibitively expensive or not enough space. A problem solved by hiring a French château.

Château la Durantaye in the Dordogne has a fairy tale quality – and it's even featured in a Bond movie. Once the home of Maréchal Bugeaud, Duc d'Isley, and painstakingly and lovingly restored by the present owners, the château sleeps 24 with accommodation for eight more in a cottage in the grounds.

On the first and second floors each bedroom or suite is exquisite. The four-poster bed I slept in was almost dwarfed by the size of the room which also contained sofas and chairs to relax privately (great for some quiet time before dinner). The en suite bathroom was probably bigger than my sitting-room at home!

The ground floor rooms are the epitome of elegance and graceful living including a fabulous but comfortable drawing-room, stunning, formal dining-room, TV room, library, and a large terrace with garden furniture for up to 40 people. All of which lends itself to a superb house party with a difference! And there's something for all age groups.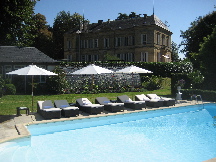 In the extensive grounds there's a pool, badminton court and lake plus acres of space for children to run off their energy! The amenities at the château mean you don't have to venture far but if you fancy fishing, water skiing, canoeing, tennis and horse riding they are all available locally.

The village, a short walk away, has a pharmacy, bars, small supermarket, boulangerie and church. Plus the fabulous Château Hautefort with is famous gardens are a short drive away as is the picturesque towns of Sarlat and Perigeux with its famous cathedral. A visit to some of the ancient caves in the area is also a must.

Château la Durantaye is definitely on my list of places to have a great party combined with a holiday!

Getting there
Airports: Limoges (59km); Bergerac (128km).
Train station/ town: St Yrieux (16km).
Nearest port: Bordeaux (197km).

Booking
Château la Durantaye is one of over 150 high class French properties ranging in size and price listed on the specialist site www.simplychateau.com or tel: 0845 389 9581 for more details.

Prices from £5000 low season (£250 per week each when 20 are sharing!) to £15000 per week in high season. This includes three hours cleaning three times a week and all linen.

Extras (if required):
Breakfast, lunch and dinner (menus from 20 to 80 euros a head).
A cleaner - 12 euros an hour.
Babysitters - 20 euros an hour.
Drivers - 120 euros a day.
Also available a 1950's Bentley and a driver at 200 euros + petrol a day.

Anne's trip was organised by Simply Chateau.