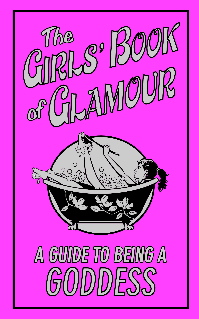 The Girls' Book of Glamour is a very light-hearted and easy read. It contains many useful tips on hair and make-up, but also on how to prevent spots and what to do when spots occur – which is something all teenagers want to know!
Author Sally Jeffries, a beauty journalist, includes funny yet interesting facts and tips, plus more serious matters about health , for example: always eating breakfast as it is the most important meal of the day and "How to eat your way to beautiful skin".
The Girls' Book of Glamour covers a wide variety of subjects from giving yourself a mini facial to stopping biting your nails.
The line drawings make the book even more appealing and add a touch of humour.
Although some of the things in The Girls' Book of Glamour focus on very rare occasions in a girl's life or things that are not particularly important, for example "how to hail a black cab successfully", the book's light-hearted and colloquial approach make it a very enjoyable read.
It is a fantastic book for girls of all ages, as "every girl deserves to live a life of glamour".
Published by Michael O'Mara Books, The Girls' Book of Glamour is available from Amazon. To order a copy click the link below:
The Girls' Book of Glamour: A Guide to Being a Goddess (Buster Books)
For the complete catalogue of Michael O'Mara Books go to www.mombooks.com