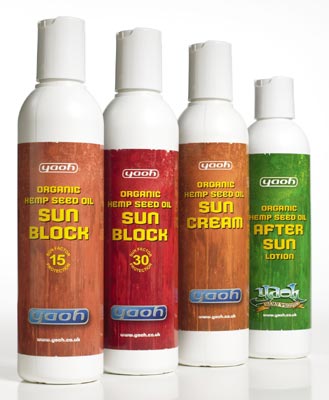 Yaoh Organic Hemp Seed Oil sun block is a new alternative to the
almost endless array of sun lotions and potions available in every chemist. As the name suggests, this sun block is a mix of hemp seed oil and conventional chemical sun block, albeit the "most effective
and least damaging" mix on the market. The hemp seed oil makes the lotion smooth and easy to apply, with handy moisturising qualities.

Unfortunately, the bottle isn't a triumph of practical design - you have to squeeze hard to get the liquid out, and once your hands are
sticky from applying it to yourself and your children, this is rather
tricky. That said, the sun block smells lovely, isn't sweet and sticky
like some other products, and feels great on the skin.
The whole family has been using it for the last two weeks to protect our skin from this strange summer of showers and sunny days in the park. There is no mention of waterproof properties for the sun block so the only time I would avoid using Yaoh are days out at the coast.
Yaoh Sun Block SP15 and SPF 30, suitable for babies with sensitive skin conditions and eczema, is available from www.naturebotts.co.uk both £9.95/240ml