Ever since a skin problem of my daughter's was cured using tea tree oil, I have been a great fan of this native to the Aussie outback and have used it in many different ways. Tea Tree is a soothing ingredient that has many medicinal benefits and is commonly used to treat a range of conditions.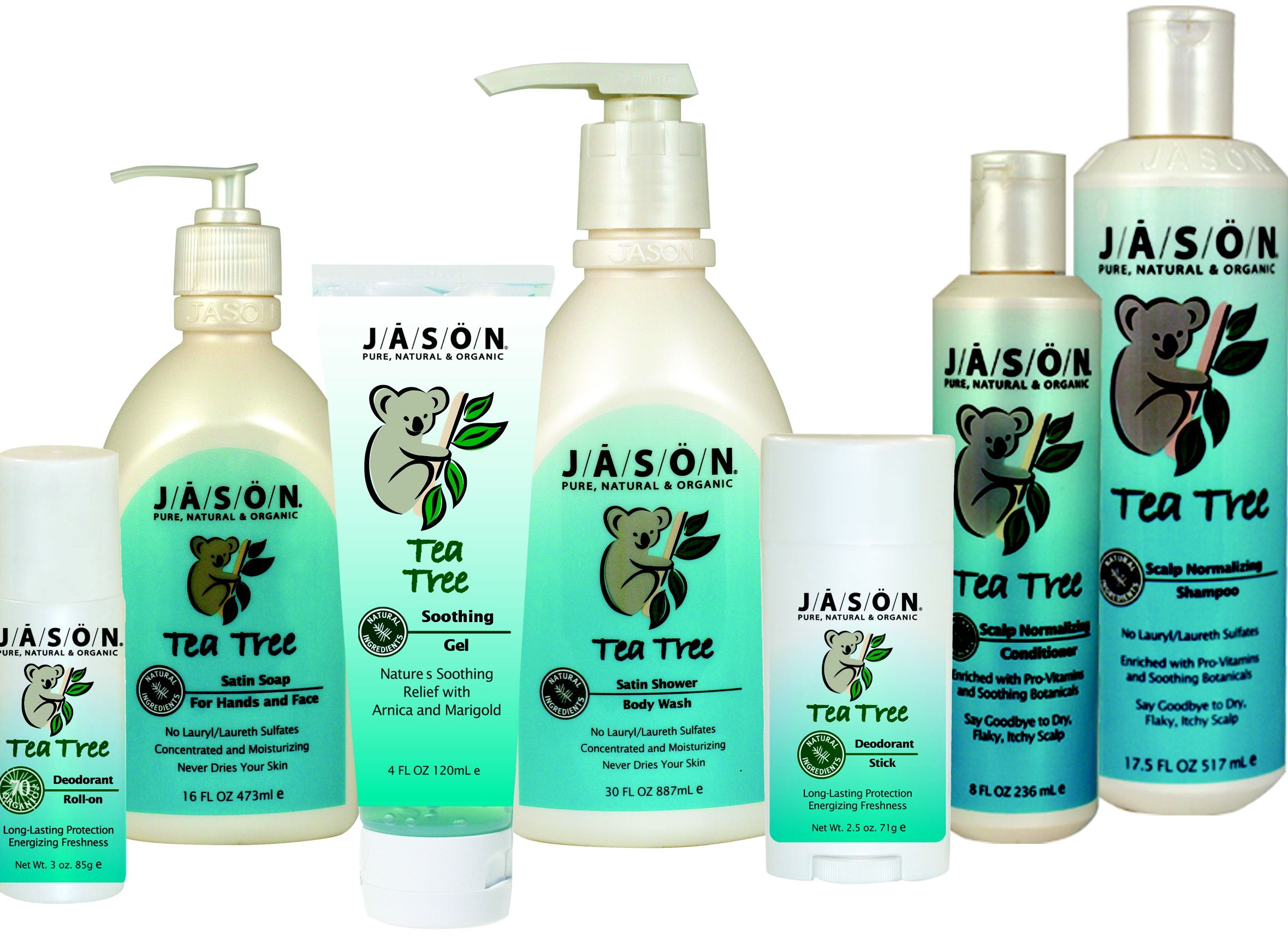 JASON products are free from any synthetic ingredients that harm the environment, irritate the skin and have not been tested on animals and they do not contain parabens, sodium lauryl/laureth sulfates, mineral oil, lanolin or petrolatum. So they are great for anyone who, like me, has sensitive skin, dermatitis or eczema.

Unlike many deodorants I've tried which are aluminium-free, I found the JASON Tea Tree Oil Deodorant Stick reassuringly effective and pleasant to use. Although the label says to "reapply after sweating" I didn't find this to be necessary. I also enjoyed showering with JASON Tea Tree Théier Clarifying Body Scrub which also contains aloe vera and has a gentle exfoliating action produced by the inclusion of corn cob powder. The scrub left my skin feeling silky smooth.

I was a bit disappointed with JASON Tea Tree Scalp Normalizing Shampoo and the Conditioner. My hair felt rather dry after use, and certainly the conditioner wasn't as effective as my usual brand. However the Tea Tree Melaleuca – satin soap for face and hands - was a joy to use and leaves the face feeling clean and revived without any of the "tightness" that often accompanies using a normal soap.

Price and availability
JASON Tea Tree Oil Therapy Shampoo £5.99
JASON Tea Tree Oil Therapy Condititioner £5.99
JASON Tea Tree Clarifying Body Scrub £5.99
JASON Tea Tree Satin Body Wash £7.95
JASON Tea Tree Oil Deodorant Stick £3.99/ Roll On £4.99

Other products in the range include:
JASON Tea Tree Oil 100% Pure Oil £7.99
JASON Tea Tree Oil Organic £9.95
JASON Tea Tree Oil Gel Tube £2,99
JASON Tea Tree Nail Saver (no more fungus) £4.99
JASON Tea Tree Icy Mineral Gel (long lasting) £6.99 (120g) £9.99 (240g)

JASON is available in Whole Foods, selected Waitrose Supermarkets, John Bell & Croyden, Fresh & Wild, Planet Organic and selected Health Food Stores nationwide.