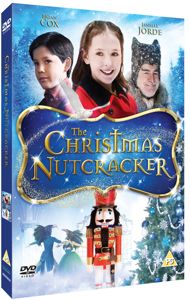 The fabulous story of the
wooden Nutcracker
has been transported to another
era
and another world as
Tchaikovsky's
powerful music works its
magic
for another
audience
and encapsulates the wonder of
Christmas
.
Set during the
Second World War
in Alberta,
The Christmas Nutcracker
features Clara, a 12 year old whose father is a
prisoner of war
in Germany. Sent on an
errand
to the local store cum post office,
Clara
is delighted to receive a
postcard
from her father and on her
way home
to tell her family she meets
Drosselmeyer
– played by the inimitable
Brian Cox
– who
enchants
her into inviting him to spend
Christmas eve
with her family.
Drosselmeyer
arrives complete with
gifts
for her two brothers and the
wooden Nutcracker
for Clara who is granted a
special wish
to see her father. Four exquisite
dance spectacles
, performed by the world renowned
Alberta Ballet
are woven into the
narrative
to create Clara's dream world. An excellent way to
introduce ballet
to children.
The Christmas Nutcracker
is a worthy adaptation of the
novel
and the film has something for everyone. A
family treat
during the
festive season
– you may need some tissues! – and
Janelle Jorde
as Clara makes an
impressive debut
.
The Christmas Nutcracker [DVD]
from
Revolver Entertainment
is available from Amazon.