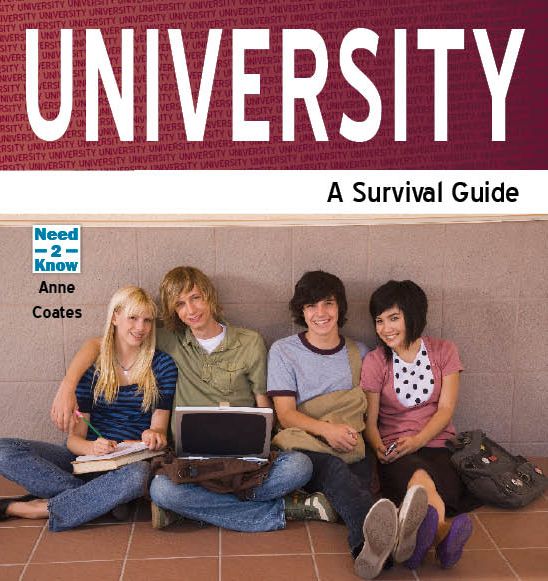 This really is a survival guide, covering just about every aspect of going to and staying at university. Its layout and use of real case studies means that it's a guide students can easily dip into - and more importantly, they will really relate to the examples quoted. I couldn't fault its comprehensive coverage; I can only highlight what I thought were the most useful sections.
University A Survival Guide starts with the basics of student finances, banking and accommodation and it is these that will be especially useful to parents as well, particularly before the student sets off for university. There is also a later chapter on day-to-day finances at university. I was impressed with the number of tips which anticipated and dealt with problems that may arise sometime in the future (especially valuable if like most school leavers you've been used to focusing, until now, mostly only as far ahead as next Saturday's night out). Taking the advice in the book on choosing and setting up a bank account in good time could stop you being one of the many students who find themselves penniless in practice when they first arrive, unable to access their student loan even though it's been allocated to them.
The helpful two page list of things to take with you to university is a particular godsend and bang up to date.
A significant problem which some students face is one they never thought they'd have - homesickness and/or loneliness. This is often not the obvious kind of homesickness for family but a wider feeling of missing friends, best mates and the general familiarity of life at home. Homesickness can be overwhelming and an unspoken reason behind students dropping out. The section on homesickness puts forward a set of strategies for dealing with these often unexpected feelings and details some practical steps for coping.

My only small reservation on the whole of University A Survival Guide was around the small section of the emotional side of relationships - but I'm pretty sure there's some things just have to be learned through experience.
I recommend any student to read University A Survival Guide before you go, be sure to take it with you to uni – parents will certainly want to study the first section and browse through the whole book for the basics.

This easy-to-navigate guide for students about to start at university offers all the essential information for undergraduates in clearly defined bite-size sections, which are clear and easy to understand.
University A Survival Guide is bursting with clever tips and hints on all you need to know to prepare yourself for university life: from what to pack, through Fresher's Week, to getting the right balance between studies and social life, to final exams and beyond. There are sections on money management, choosing accommodation, sex and health, catering on a limited budget, tips for studying and exams.
The book's great strength is that every section contains tips from real students, who've been there and done it already. This gives it a friendly and reassuring tone which is just right for nervous pre-uni teens - and reassuring for their parents too! There are also numerous invaluable links to useful websites catering for student needs.
University A Survival Guide should be an essential item in every new uni student's luggage - though the fairly steep cover price of £8.99 may make some hesitate. As my about-to-go-to-uni daughter commented: "If it was cheaper, I'd definitely buy it. But this is expensive for students who have to watch every penny. I'd have to hope to get it as a present!"
Aside from the cover price, the only criticism is the lack of pictures or illustrations (there is only one in the whole book). While the content of the book is first class, it would definitely be enhanced by a more visual treatment.
Sharon Bexley
Published by Need-2-Know, University A Survival Guide is available from Amazon. To order a copy, click the link below:
University - a Survival Guide (Need2know)