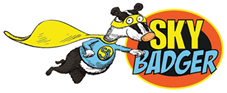 With
cuts to benefits
and services, many families of
seriously ill
and
disabled children
are struggling to cope, even though
help is available
, because they just don't know it's there.
A survey by new
disabled children's charity
Sky Badger
shows that:
only 9 per cent of families are told about disability support within four weeks of diagnosis
a shocking 34 per cent are never told about the help available to them at all
78 per cent of families in the UK with disabled children or children with terminal conditions are kept in the dark for a year or more about what support is available to them.
Sky Badger
will help parents get
respite care,
so they can have a
night of unbroken sleep
or just a couple of hours' break; it will help them find out about
"make a wish" charities
, funders who will help them pay for
mobility equipment
, specialist insurance and counselling services.
But
Sky Badger
will do even more than that. It will show
families
where they can take their
disabled child
ice-skating, or rock climbing or on safari.
Sky Badger
exists to show disabled kids that
great adventures
are possible.
Sky Badger
patrons include Professor Stephen Hawking,
Sir Ranulph Fiennes,
Master of the Rolls Lord Neuberger and
Gerald Scarfe
.