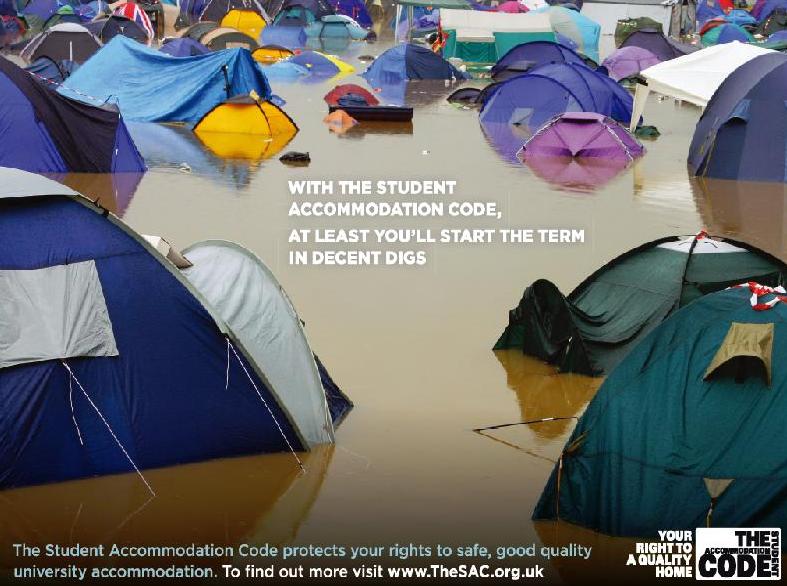 Every year over
one million students
embark on a
university or college course
which can be one of the most exciting and
challenging times
of life. Often it's when students
move away from home
for the first time, so making sure
accommodation
is safe, good quality and
caters
for their
needs
is crucial.
Many
first year students
choose
university-managed housing
and, to make sure this
accommodation
is of a good standard, the
Student Accommodation Code
has been developed.
The
Code
protects
students' rights
to safe, good quality accommodation, wherever they are
studying
, and makes sure they get the best out of their time living in
university or college residences
. It outlines
everything students can expect
from their accommodation as well as their
responsibilities
as
tenants
.
Many
university accommodation buildings
are signed up to
The Code,
which was introduced in
2006
. The Code has already
raised standards
of accommodation and aims to continue to enrich the
residential experience f
or students across England and Wales.
For parents,
The Code
is a useful and
reassuring document
that will help put them at ease when their children are away from home – perhaps for the very
first time
.
The Code covers
six main areas
, designed to protect
students' rights
to: 

A healthy, safe environment - this section covers students' rights to information on essential fire safety precautions; accommodation security; and details on what furniture and facilities should be provided for them.
Timely repairs and maintenance - this section explains what repair and maintenance is the responsibility of the university or college and what timescales they should work to when carrying out emergency or planned maintenance work.
A clean, pleasant living environment - this section outlines the services and utilities students can expect in their accommodation, including standard utilities such as heating and lighting, but also services and facilities such as rubbish and recycling collection and bicycle and car parking.
A formal, contractual relationship with the university or college landlord - this section details the information students can legally request from their landlords including rent payment schedules, cleaning schedules, and details on how to report a problem.
Access to health and wellbeing services - this section outlines the requirements for universities to provide information on where students can find welfare support, medical help, financial advice and counselling services.
A living environment free from anti-social behaviour - this section covers measures that universities and colleges should take to help ensure that their residences are happy and respectful environments.


For more information on
The Code
or to see a full list of the
university and college accommodation
that it covers please visit
www.TheSAC.org.uk