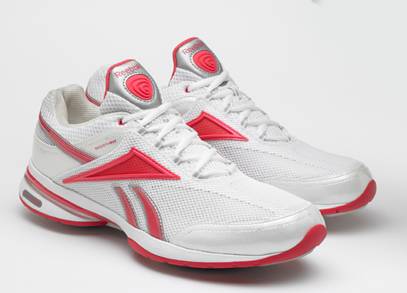 Since becoming the proud owner of a pair of
Reebok Easytone Go Outside 11 training shoes
, I have to say I have become a
complete addict
to the extent that our
youngest daughter
now says, "You're not wearing those again, Mum!"
Having gained a
few pounds
(or some would say more than a few) in
recent years
and desperate to regain
tone and posture
to an indulged
body,
I still needed convincing that the
Reebok Easytone Go Outside 11 training shoes
would produce, as the literature claimed "...
a better butt and legs with every ste
p." I thought I had
nothing to lose
and lots to gain – or hopefully the opposite.
When the
trainers
arrived and I looked at them I wondered what all the fuss was about. They appear externally to be no different from any other well made,
soft topped trainer
but inside and underneath is where that changes. The
EasyTones
have
pockets of air
in the heel and sole that might make you feel a little
unstable
at first. My
toes
also tingled (but that might just be me) and I took it as a
good sign
. This
technology
is what we are told helps to
improve the muscle tone
in the glutes, calves, and hamstrings.
It took me a little time to get used to the
different sensation
but amazingly I can
feel the difference
. After a few days (gradually building up to
full time wear)
I began to feel the
positive effects
particularly in the
toning of my bottom
and
calves
. Even after a Saturday morning
running up and down
the side of a
hockey pitch
supporting my daughter I
felt good
. My step had a
lively spring
to it. Is this really me talking?
These trainers are
very comfortable
and have definitely
improved my posture
. I am also beginning to
reap the benefits
from the
toning effects
on other parts of my body too not just my
legs
and
bottom
.

Reebok Easytone Outdoor II training shoes
are priced at around £70. There are a number of special offers at the moment, so hunt around. Even at this price they are still very good value and for once, at least for me, "They did what it said on the box".