A quick and
nutritious soup
that is easy to prepare and perfect for a
Halloween
get-together.

Serves 4 Prep Time – 15 minutes Cook Time – 30 minutes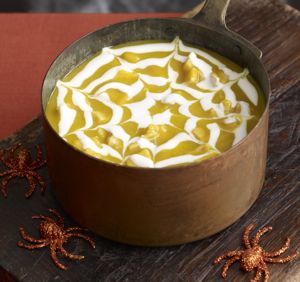 Ingredients
1 tbsp olive oil
2 onions, roughly chopped
1kg butternut squash, peeled and cut into 2 - 3cm chunks
1 tbsp mild curry powder
3 garlic cloves, roughly chopped
700ml chicken stock made using stock cubes
150g pack Mattessons Light Smoked Turkey Rashers, finely chopped (optional)
Method
1. Place the oil and onions in a large saucepan and cook over a medium heat for 5 minutes.
2. Add in the squash and cook for a further 6 - 8 minutes until browned, stirring occasionally.
3. Stir in the curry powder and cook for 30 seconds before adding in the garlic and stock, bring to the boil and simmer for 10 minutes until the squash is tender.
4. Whizz with a hand held blender, food processor or liquidiser until smooth.
5. Pour back into the pan, add the chopped Turkey Rashers, and simmer for 2 to 3 minutes until the turkey is cooked through and season well.
6. Serve with crusty bread.
Tip
: For a cobweb effect on the soup, make a spiral from natural yoghurt using a teaspoon, and then drag it through with a cocktail stick starting each time from the centre to the outside.