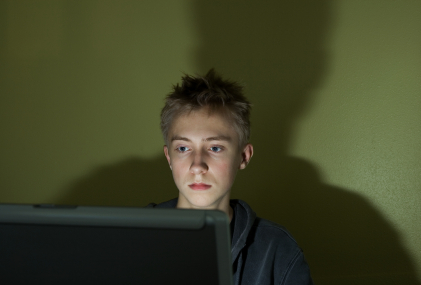 I can fully understand your shock at such a massive phone bill and I wouldn't mind betting your son is quite horrified too – while youngsters are on the phone they have no concept of time or cost. You are not the first parent to discover that an offspring has been phoning a mobile and running up a huge bill!

Your question is really in two parts – the problem of running up a huge phone bill and secondly meeting someone online.

Let's start with the first and in some ways easier problem. Your son has agreed to pay back the cost of the calls but that will obviously take some time and having to cover that bill may mean you cannot afford other things you usually buy and that affects other members of the family. He must be told how his actions have an impact on the family budget.

You could contact your landline supplier and see about barring calls to mobiles but that might mean your children cannot contact your mobile if they need you urgently. There are various locks you can also purchase. If he wants to phone his friend's mobile he'll have to do it from his own and pay for the call. Alternatively they could both sign up for Skype and make free internet calls to each other. Another question suggests itself – why hasn't she given him her home landline number?

Now to meeting people online. It's true what your son says – social networking sites have opened up the world in some ways so people do meet each other through networks. The problem with this is that people may not be who they say they are.They may be older or younger. And may just enjoy stringing someone along. It may also be that your son is spending too long in front of a computer screen using MSN when he should be doing schoolwork.

One thing I would be worrying about is your son's actual social life. Does he go out with his friends? Does he have opportunities to meet people of his own age? If not then the "phone relationship" may assume too much importance. It's very easy for young people to think they are "in a relationship" with someone when they speak to that person constantly but it may be she already has a boyfriend or likes the idea of an attentive admirer hundreds of miles away.
I would try to talk to him generally about meeting people and making friends. Encourage him to bring friends home and suggest ways that improve his social life.
This queston and answer first appeared in The Scotsman. If you have a problem you'd like to discuss, send your question to Anne Coates.