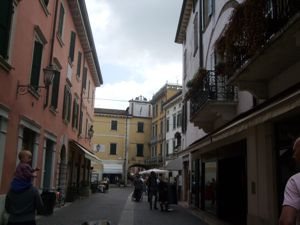 Peschiera
Del Garda
makes a great day out easy to reach – about ten minutes by car – from the
Thomson Al Fresco Altominio Family Parc
and there is
cycle track
running along the river which is just over 7km. We set out by
taxi (16€)
on an overcast day but by the time we arrived the
sun
was shining on this
enchanting, walled town
which sits in the mouth of the
River Mincio
which feeds into
Lake Garda.
We arrived in
Peschiera
just after midday. A maze of
small streets
intersect each other and many are
pedestrian-only
so
no worries
about traffic. There are the usual
touristy shops
, fashion outlets and a plethora of
restaurants
and gelataria. We had lunch at
La Torretta
.
The curved walkway alongside
Lake Garda
is simply
captivating
with the boats at the beginning then all the
various ducks
and
swans
including one black one. When we were there were families of
cute ducklings
and
cygnets
to entertain us and we saw their
nests
as well. En route there are
cafes and restaurants
but it is not overcrowded and you can listen to the
lapping water
and be inspired by the sheer expanse of sparkling blue water. Further along there's a
stony beach
and where we stopped for
coffee
you could hire
pedaloes
.
For our return we needed a
taxi
. The woman we spoke to in the information office
to there was
gave us a number and said they spoke
English
which they probably did once you went through all the
recorded options
in Italian! So – after dredging up my O level Italian to ask directions – we trekked to the
rail station
where there's a
cab rank
.
Things to do and see:
Get a map from the Information office at Piazza Betteloni
Via Dante look up to the bell tower. The clock marks the half-hour with two birds making the chimes.
Street Market: Monday 8am to 2pm
Museo della Pesca, open Saturdays, Sundays and festival days 10 to 12.30/15.00 to 19.00
Roman excavation next to San Martinio church in Piazza Ferdinando Di Savoia
Peshiera del Garda
is certainly worth more than a day's visit.
PWT rating
: ♥♥♥♥♥