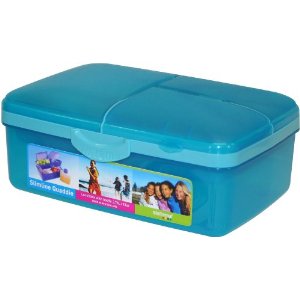 The
new school term
often necessitates buying a new l
unchbox
and we've been impressed by the
Sistema Slimline Quaddie
. This compact lunchbox has:
four compartments including a drink bottle which are ideal for sandwiches, fruit andlunch-time favourites

is made of BPA free materials
is freezer, dishwasher and microwave proof.
We also recommend Cuticura Anti Bacterial Hand Serum for Kids ideal to be kept in their lunchbox to be used before eating.
The
Hygiene Council's
top five tips for a
hygienic packed lunch
:
Clean and disinfect the kitchen work surfaces with antibacterial sprays and wipes, wipes can be disposed of immediately after use to limit potential cross-contamination of surfaces.
Wash fruit, salad and vegetables thoroughly – especially if they will be eaten raw.
Freshly prepare food each day where possible but if you have to store packed lunches overnight, check labels to ensure you store foods at the right temperature.
Check that your child can store their food somewhere cool until lunchtime or consider using a freezer pack or cool bag to help keep your child's lunch chilled.
Try to get your child into the habit of washing their hands regularly with antibacterial soap, particularly after visiting the toilet and before eating, both at home and at school.
The Slimline Quaddie is available in four colours from Amazon:
Sistema Slimline Quaddie Lunch Box, Aqua
Sistema Slimline Quaddie Lunch Box, Pink
Sistema Slimline Quaddie, Black
Sistema Slimline Quaddie Lunch Box, Lime