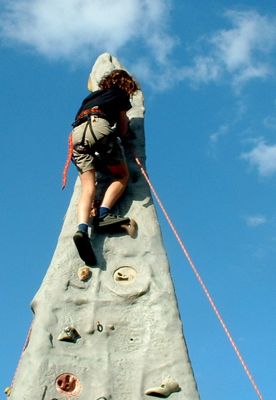 The facilities at
Keycamp's La Vallé
proved to be a hit with the
whole family
. The small shop sold fresh
croissants
and bread daily offering a
treat every morning
for breakfast. The
swimming
pools were a real bonus. They were open for a two-hour
morning session
and a longer afternoon and evening session up to
7pm
. There were
three pools
: indoor heated, outdoor, and toddler pool.
Two slides
in a separate section were
high and daring
enough to maintain everyone's
interest
.
The pools were
well supervised
, even to the extent of
refusing entry
into the pools as an ancient pair of
M&S trunks
were deemed to be
shorts
, which are forbidden. Much
family hilarity
followed as a pair of
Speedo type
trunks had to be
purchased
and worn by slightly chunky other half. This proved
no problem
at the pool as all
shapes and sizes
were squeezed into over-tight
swimwear
.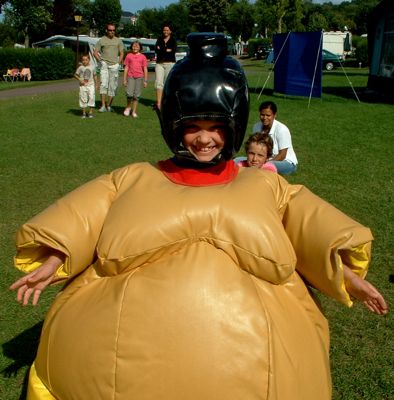 The children took part in archery,
rock climbing
, water polo and
sumo wrestling
. Adults and children don sumo
wrestling suits
and fight it out – very silly, but fun.
Tennis courts
were also available. Various other
activities
were on offer (all part of the
kids club
) the majority of which were
free
during the week.
The
Mathilde and Joe
met and made
friends
with a number of children, in particular at the
playgrounds.
Children tended to "
hang out
" here, relishing the
freedom
of being out
without parents
, often denied at home. La Vallée
security
was very good. Each checked-in car had a
swipe card
, and each person had a
wristband
.
No cars
were allowed to drive into the parc
after 11.00pm
. A car park was provided just outside the barrier if you arrived backafter that time.
There was
entertainment
each evening, which was quite noisy from about 8pm to 11.00pm. However La Vallée was certainly quiet by about 11.30pm. We chose not to eat or to have a takeaway from the
bar/restaurant
; the food seemed standard
fast food fare
with the addition of
moules and frites
.
The
Keycamp reps
were available at their tent during
office hours
or otherwise by phone. They were able to
answer
our queries well. They were
hands off
– which in our eyes is a
great bonus
– but we knew where they were if we
needed
them. There was also a person on
reception
24 hours a day.
We could have stayed on site for the
whole holiday
, and indeed we met families who were happy to do this as the
facilities
on offer provided their children with
plenty of entertainment
, allowing
parents
to
relax.
We however prefer to mix
local sightseeing
with relaxing back at base. During our stay we visited the Airborne Museum Pegasus Bridge, Bayeux and the tapestry, Honfleur, and the beautiful city of Rouen.
Louise Pollard and her family were guests at
Keycamp's La Vallée at Houlgate
, France.
For the
latest deals
, further information or to
make a booking
, visit
www.keycamp.co.uk