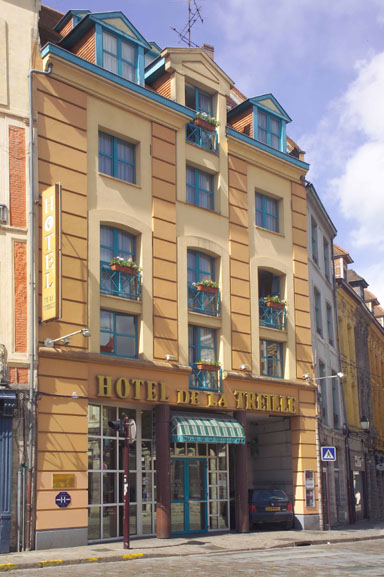 Hotel de la Treille is situated in the heart of Vieille Lille, overlooking a cobbled square and with the Cathédrale de Notre Dame a few minutes walk behind it and the Hôpital de la Comptesse just up the Rue de la Monnaie which bracnhes off from the square.

This hotel doesn't have family or connecting rooms so if you take children who wouldn't be able to share a room on their own, parents will have to separate and each share with a child.

Like many hotels within cities, the three star Hotel de la Treille doesn't offer leisure activities but is a great base to explore from. The rooms are compact and offer flat screen cable TV plus a mini bar and a good bathroom en suite. We stayed here for two nights and had breakfast on the first morning. This usually costs 11€ but for some reason was reduced to 6€ that morning and so was exceptionally good value. The buffet displayed an array of juices, coffee, teas plus a range of cereals, yoghurts, breads, croissants, cheeses and cold meats. Unfortunately that morning the fresh fruit was in short supply.

To put the €11 breakfast into context, the second morning we tried the "highly recommended" Paul boulangerie on the corner of rue de Paris and place du Théatre. The adjoining restaurant had been closed down so it was a case of choosing a drink plus croissant. Tea was made with luke-warm water, and you paid for coffee by the cup at 2€40. So the Hotel de la Treille was much better value!

Hotel de la Treille is well situated for a family to explore Lille – most places are walkable – we only took the metro as it was a recent and interesting addition to the city (driverless trains which people who know London Docklands Light Railway will be familiar with).

We booked the hotel through hotels.com which offers the best available discounts like extra nights free and so on. Hotels.com prices start from £66 per room per night.
To book go to www.hotels.co.uk or call 0871 200 0171.