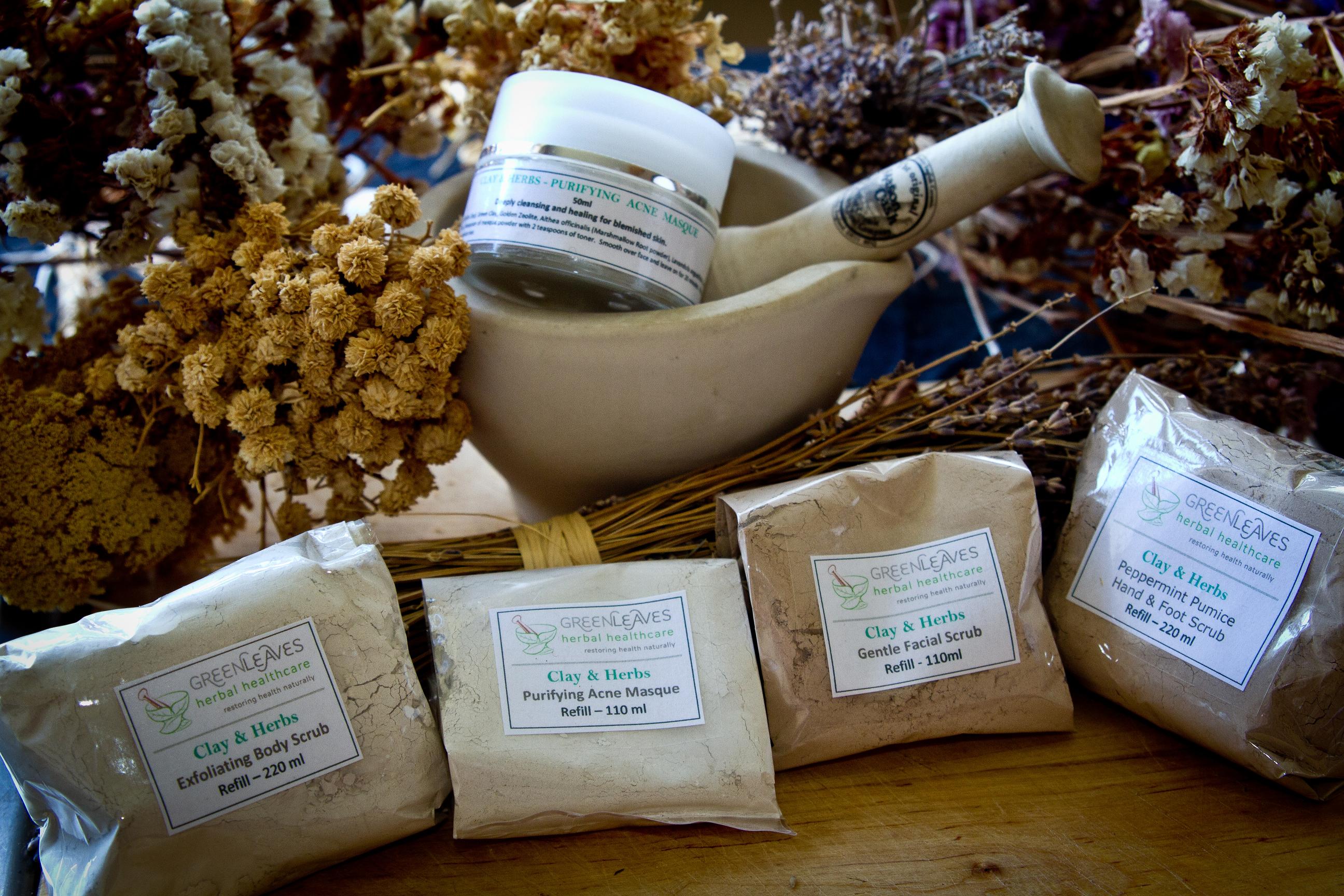 There are four products in the
Clay and Herbs Skincare range
:
Gentle Facial Scrub
Exfoliating body Scrub
Peppermint Pumice Hand and Foot Scrub
Purifying Acne Masque
The
Clay and Herbs Skincare
range contains
no chemicals
or fillers and they are made from 100 per cent
natural ingredients,
including
clay
and
zeolite
. The use of
clay
has long been known for drawing
impurities
from the
skin
as well as the ability of the mineral
zeolite
to absorb and remove
toxic wastes
.
All these
products
are very easy to use. In each case all that is required is to mix
one teaspoon
of the powder with one to two teaspoons of
purified water
(I used cooled boiled water),
massage
it carefully into the appropriate areas and then l
eave for one minute
before rinsing it off with a
sponge
, gently patting dry and finally applying a good quality
moisturiser
.
Gentle Facial Scrub £7.70/30ml
Ageing skin
always needs a little boost and
extra care
I feel and I would certainly
recommend
this product to do just this. I have used it
three times
now and each time my
face
felt refreshed and soft to touch. It is so
quick to use
that it can easily be applied before putting on
make-up
, especially if one is getting ready for a
special occasion
.
Exfoliating Body Scrub
£6.50/30ml
I have only used this
scrub
once so far and particularly concentrated on the dry skin areas on my legs. I shall definitely be using it again though as the texture and surface of my
skin
did appear
smooth after use
.
Peppermint Pumice Hand and Foot Scrub £6.50/30ml
I have used this twice on my
feet
, which were very much in need of
attention
before I felt able to wear my
summer sandals
. Regular use of this
scrub
would certainly improve the
rough skin areas
particularly on the
heels
.
Purifying Acne Masque £8/30ml

This
mask
has been used by my 17 year old daughter, who reported that her
skin
felt soft after use and that after
several applications
there was a slight
improvement
in her skin's condition. She did say that it took her a
few times
to get the
consistency
just right.
PWT rating:
♥ ♥ ♥ ♥ ♥
Clay & Herbs Skincare
products (other sizes and refills) are available from
Greenleaves Herbal Healthcare