Grand Breaks – a new family-run travel business, specialising in one, two or three-day breaks in the UK for grandparents and grandchildren – is offering some very special Christmas presents: a range of gift vouchers to the value of £100, £125 and £150, that can be put towards one of the company's flexible range of magical UK family holidays (www.grandbreaks.com).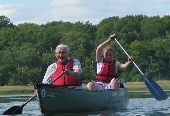 These include anything from kayaking on the Beaulieu River in Hampshire, to a steam train journey on the Bluebell Railway in Sussex; and having fun at Cadbury World in the Midlands, the Science Museum in London, the Royal Botanic Gardens in Kew, and the stunning Tennis Museum at the famous All England Tennis Club in Wimbledon.
The inspiration for the creation of Grand Breaks was Managing Director Charles Grimaldi's great-grandfather Sir Henry Thornhill, who wrote the world's largest known collection of beautifully illustrated letters to his grand-daughter, Charles' mother, and his other grandchildren, in an unique expression of a grandparent's love to his grandchildren.

"These enchanting letters depict imaginary outings that my great-grandfather wanted to take with his grandchildren, but couldn't because they lived thousands of miles away," he explained. "So my son Tim and I decided to make my great-grandfather's dream a reality, by creating the sort of outings and holiday breaks that he wanted to take so much with his grandchildren, but rarely could.

"After 18 months of research and planning, we created a range of packaged breaks for grandparents and grandchildren to enjoy equally together – offering breaks for different interests and fitness levels etc, so there are Classic, Active, Discovery and Bespoke Grand Breaks in Warwickshire, Hampshire, London, Surrey and Sussex, with more destinations planned. The carefully selected hotels and attractions are welcoming and fun for all ages. Grand Breaks books and takes care of everything – whether it's a specially tailored bespoke break or one of the themed packages – so that grandparents and their grandchildren can just enjoy having a great time together and create a gift of memories that will last for lifetimes."

To enter The Grand Breaks Christmas competition simply answer the following question:
What is the name of Charles Grimaldi's grandfather?
The sender of the first email opened at random on Monday 8 December will win the £100 voucher.

The Grand Breaks Christmas 2008 Gift Vouchers are valid for breaks taken between 1 January 2009 and 31 May 2009. To order, telephone Grand Breaks on 01323 730 889; or email: memories@grandbreaks.com
For more information on Grand Breaks visit: www.grandbreaks.com