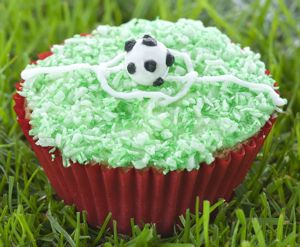 Ingredients
(makes
18
using Dr. Oetker cases,
12
using standard cupcake cases)
175g plain flour
½ tsp Dr. Oetker Baking Powder
¼ tsp Dr. Oetker Bicarbonate of Soda
¼ tsp salt
2 medium eggs
175g castor sugar
100ml vegetable oil
1 tsp Dr. Oetker Natural Vanilla Extract
125ml soured cream
Method Heat
the oven to 180 c Gas 4
Sieve
the flour, add the Dr. Oetker Baking Powder, Dr. Oetker Bicarbonate of Soda and salt, set aside.
Using
an electric hand whisk beat together the eggs and the sugar until they are pale yellow and thick.
Gradually add
the vegetable oil, Dr. Oetker Natural Vanilla Extract and soured cream, whisking all the time on a low speed.
Finally add
the flour and other dry ingredients, and continue whisking till the batter is smooth
Pour batter
into a jug, line muffin trays with paper cake cases and divide batter between them, filling each half full.
Bake
for around 15 minutes in centre of oven until they are golden and a small skewer inserted in the centre comes out clean.
Allow to cool
slightly in tins, remove from tins and cool completely before decorating
Decoration
Buttercream icing, around 350g
Dr. Oetker Green Food Colouring
150g dessicated coconut
Dr. Oetker Ready To Roll White Regal-Ice Icing, about 50g
Dr. Oetker Writing Icing (Black and white)
MethodTake half
the Buttercream in a separate bowl, add a few drops of green food colouring at a time and mix thoroughly until the buttercream is an even bright green colour
Place coconut
in a plastic container with a tight fitting lid, add a few drops of green food colouring, place lid on securely, shake until all colour is dispersed through the coconut. Check colour of "coconut grass" add more food colour if required, and repeat process.
Spread
green buttercream on each cake, and then holding the cakes on either side of the paper cake case dip the buttercream covered tops into the coconut, ensure it is all covered and gently shake off any excess. Allow to set for five to ten minutes
Make
the footballs by rolling small balls of Dr. Oetker Ready To Roll RegalIce Icing and then adding dots of Dr. Oetker black writing icing to create the appearance of a black and white ball.
Draw
a white line through the centre of the cakes with Dr. Oetker White Writing Icing, add a circle in the centre. Gently place the footballs in the middle.