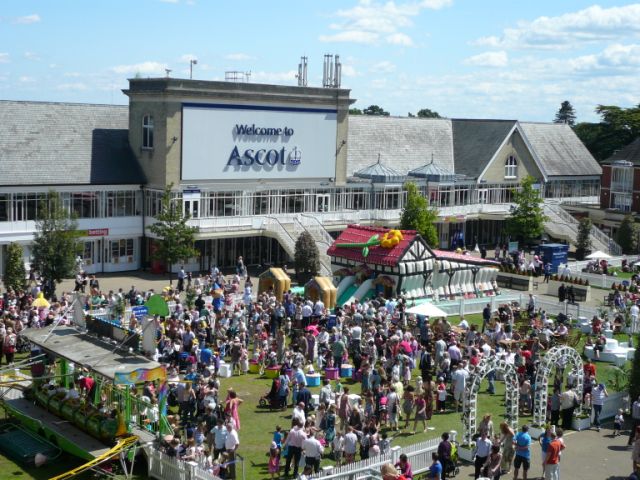 None of our family has ever set foot on a race course before and our experience of betting is limited to an annual flutter on the Grand National. We went to an Ascot Family Day in late July and had a fantastic time. Ascot is trying to lower the average age of its punters and to attract a wider audience for horse racing generally. To this end they are organising five family days this year at weekends. There are at least two more to come, in early November and near Christmas.
We travelled by train from London Waterloo (about 30 minutes). Lots of people also drive and there appear to be plenty of car parks. We had the benefit of a box upstairs in the new and glamorous stand building, which came with two course lunch, drinks of all sorts, racing papers, a splendid view and tea. This level of VIP treatment (which was marvellous) would normally be about £180 per adult (based on 12 people sharing a box). In fact, we spent a lot of time downstairs by the track, pressed up against the white rail, watching the finish line, hearing the roar of the crowd spread like a Mexican wave and listening to the thunder of those hooves.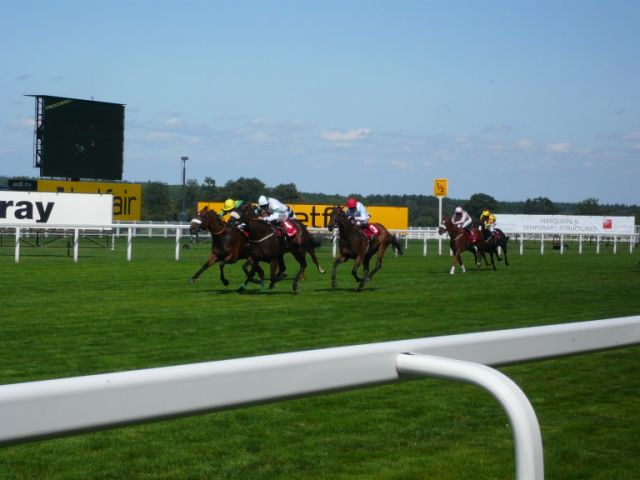 Most people turn up and pay £17 per adult for the day (children below 18 are free). You then have the run of most of the downstairs areas, including tiered stands with a good view.

Many people bring picnics and sit on blankets. There are plenty of loos, lots of food outlets in a range from fish and chips, through Pizza Express to top end restaurants.
Betting is restricted to over-18s of course, although we quickly corrupted our children and placed bets for them. It is very easy and simple to place a trackside bet for cash and they will very happily take stakes of £2. It's a doddle to put £2 on something likely to win, watch it come in and then collect your winnings. We came home about £27 richer overall on this basis.
The day was themed towards younger children. There was a funfair with a small rollercoaster, carousel, bouncy castle and quite prolonged presentations of Peppa Pig and friends. Almost as much fun was the winners enclosure, where you get up close to the horses and jockeys before and after races.

Family days also featured a guided tour with such delights as the Female Jockeys' Changing Room!
We were blessed with beautiful weather, but would strongly recommend Ascot as a day out. There is a real sense of occasion (even on a quiet day with "only" 18,000 people there), drama and excitement. The people-watching is tremendous amusement and the race finishes are genuinely dramatic.

The whole race course has a feel of good old-fashioned service, with masses of staff, many old-timers in bowler hats. Marvellous.
PWT rating: ♥♥♥♥♥