When I first heard about Pilates, I was told that classes and instruction should be on a one to one basis on in a very small class. This, of course, makes it expensive and so the rise of large classes where, I imagine, many participants are not getting the most from the practice.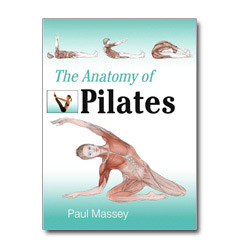 For this reason I'd recommend Paul Massey's The Anatomy of Pilates to everyone who goes to a public class and/or wants to get more benefits from Pilates.
The Anatomy of Pilates is divided into four sections:
Introduction to the Pilates Method
Posture and Movement Assessment
Application of the Pilates Method
Classical Pilates Exercises
Some of this information is more than the average exerciser needs but the book is intended for prospective teachers of Pilates, practioners of all levels and health professionals. So take from it what you will.
The last chapter on exercises is excellent - showing the reader what is happening to the muscles and joints while undertaking each position. It gvies the objective of each exercise, a detailed description, how to breathe, checkpoints and, perhaps most importantly, pitfalls.
Although it is often impractical to have a book open while you exercise, The Anatomy of Pilates is the next best thing to having a teacher working alongside you.
Paul Massey's The Anatomy of Pilates from Lotus Publishing is available from Amazon. To order a copy click the link below:
The Anatomy of Pilates