Almost half the one million children taken to A&E are under the age of five and it's important that parents should know some first aid.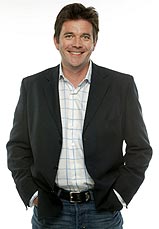 Dr Mark Porters Top Tips
Stay calm and smile – your child will sense if you panic but will be reassured if you show you are in control and there to help them.
Check your surroundings are safe – don't put you or your child at risk.
Reassure the child and keep them warm.
A cuddle and a kiss can work wonders too!
Try to avoid children seeing blood – the sooner your child's got a plaster on, the better they'll feel.
Prevent infection – if possible wash your hands before applying dressings or wear disposable gloves.
Be prepared – ensure you have a well stocked first-aid kit and replace anything you use as soon as possible.
Parents could consider taking a first aid course run by St John's Ambulance or The Red Cross.

For more information and first aid advice visit www.elastoplast.co.uk/first-aid-advice.html