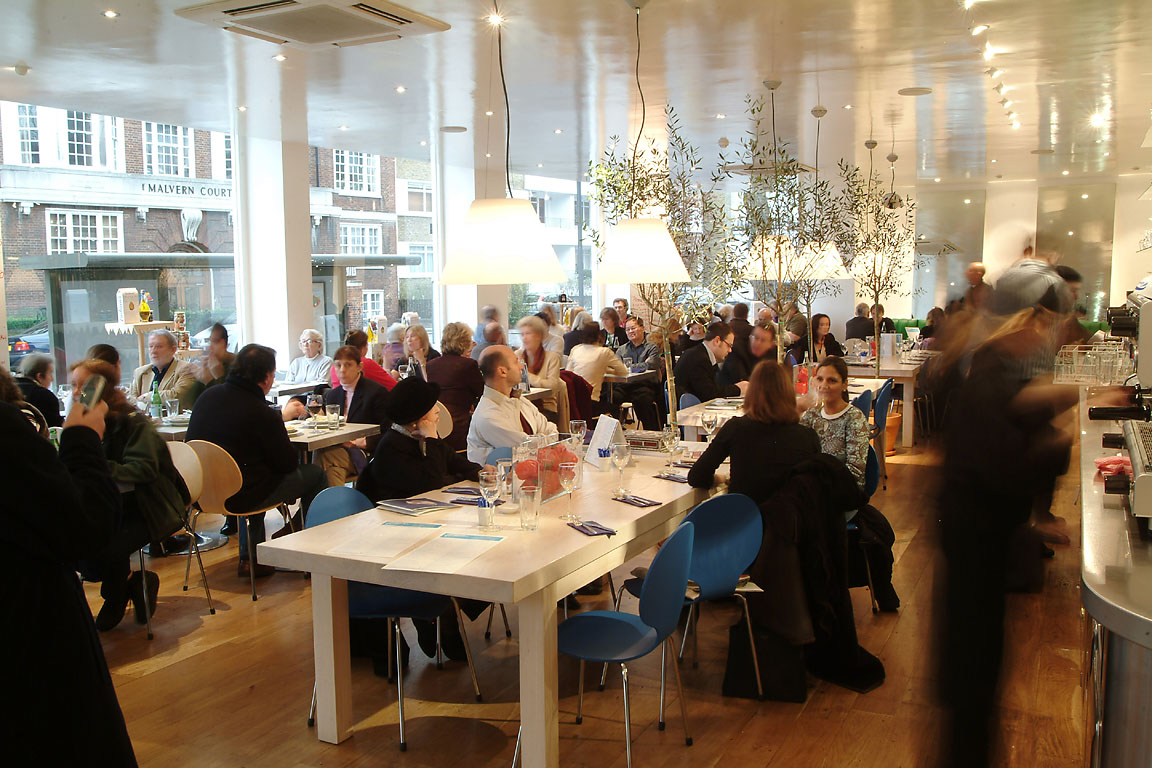 Antonio Carluccio's empire stretches nationwide with number 38 soon to open in Leicester and most incorporate a food shop as well as the caffe and main restaurant.
We visited the South Kensington branch (opposite the tube station) on the first Sunday of London Fashion Week. It is in the heart of Chelsea and a stone's throw from the National History Museum, the V&A and the Science Museum. As a result the tables were full of smart Kensington families (often with granny and grandpa at the table too) with young children, collections of fashionistas and occasional visitors brandishing plastic dinosaur souvenirs from the museums. However they were all there for the same thing – genuine Italian food.

The thing that works so well about Carluccio's cafe is that whilst children are welcomed with open arms – no problem to make room for the buggy, beautiful drawing/jigsaw packs to keep them busy, a special menu, even service: "We tend to serve the children immediately, does that suit you?" – the food and atmosphere is not dumbed down to make it insipid for adults.
The children's menu is a very reasonable £5.95; crostini are brought, drinks in plastic cups with straws (no need to ask for either), choice of pasta shapes with choice of sauces or three dishes from the adult menu deemed suitable for smalls and of course, the all-important ice cream.

Meanwhile the full adult menu has a fantastic collection of anti pasti as well as pasta dishes and then main dishes. The puddings are to die for – nothing more needs to be said. And the coffee is worth mentioning – it's so good that you could be in Milan! And the wine menu has a good range of basics for a quick decision, most of which you can buy by the glass.

If you choose to stick with pasta then it is very affordable (most dishes range from £7 to £9) but if you want something smarter then the main dishes are more expensive (£10 to £16) but are worth it – my pollo di Milanese was surprisingly tasty for such a simple dish.

We had super service from our waitress and maitre d', nothing was too much trouble and there's no hanging around. When our younger son decided to yell his head off, leading us to beat a hasty retreat, they were even able to give us a take-away coffee and put our tarta di limone in a bag so that we didn't miss out.

The only thing that might be a downside is something that Carluccio's can't actually do anything about – this particular branch is noisy. And this might be off-putting for some children and disappoint some adults who had hoped for a conversation!

This is a truly Italian experience where the children and adults simply get stuck in together – the food makes no concessions to the children eating it but the service and atmosphere do. It's the perfect combination and rather makes you wish home was Padua not Peckham.
To find yournearest Carluccio restaurant log on to www.carluccios.com/ and key in your post code.