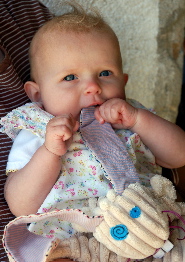 Baby Deglingos Lapinos (the bunny) is a funky baby comforter or doudou. He is incredibly soft, the body is made from a velvety corduroy type fabric and he is designed with about 12 different fabrics which give your baby lots of textures to play with.

Five month old Pippa has been happily chewing the ears of Lapinos for the last couple of weeks and I can vouch that the carefully chosen fabrics wash like a dream. Lapinos has remained comfortingly soft and huggable regardless of the number of washes and has packed easily into our day bag. The range has been safety tested to be used from birth.

The fabrics on the inside of Lapinos ears have a retro feel which does appeal to me. I'm not sure whether he is super cute or a bit spooky looking, Pippa's rabbit has a crazed look to his eyes but we've warmed to his quirky looks!

The Baby Deglingos range includes a selection of funky friends - Molos the lobster, Ronronos the cat and Milkos the cow. The entire collection is made from over 50 different fabrics.
The Deglingos make an ideal quirky gift for design conscious parents of new babes.
Ronronos the cat can be ordered from Amazon by clicking the link below:
ORIGINAL DEGLINGOS 'RONRONOS' - The Cat