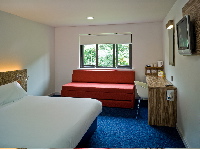 Shopping, partying, being a host, visiting family and friends and hitting the winter sales are soon going to be on everyone's agenda with Christmas fast approaching.
To ease the pressure of the festive season, especially with the credit crunch in full force, Travelodge is holding a Winter Sale by offering over 50,000 rooms for just £9 per night across all of its UK hotels.
So whether it's Lincoln's Christmas market you want to shop in, the Lake District to relax and recuperate, a visit to a historic city like York or Edinburgh, Travelodge has a room for you.
For a family of four that works out at just £2.25 per person which is a cheaper than a standard "Selection box".

To book a £9 room just visit www.travelodge.co.uk.
Bookings must be made by Sunday 21 September 2008. Stays must take place between 1 December 2008 and 22 February 2009.