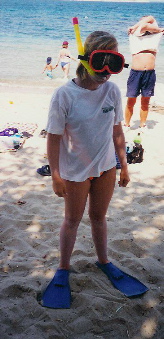 A new survey carried out by the makers of Anthisan Bite & Sting Cream of 3,144 people across the UK found that 36 per cent have had their holiday ruined by sunburn and 30 per cent by diarrhoea.
Insect bites were also a major cause of annoyance for holidaymakers, who suffer an average of eight bites per holiday.
Dr Jane Zuckerman, Director of WHO Collaborating Centre for Travel Medicine, recommends these first aid essentials when travelling:
Pain-killers - mild aches and pains can put a dampener on your holiday fun. If you suffer from prolonged headaches while abroad, seek medical attention as it could be a sign of sunstroke.
Oral rehydration therapy - diarrhoea, the second most common cause of illness while on holiday, can very quickly lead to dehydration and loss of essential body salts - a particular concern for children and the elderly. A good quality oral rehydration therapy ( Dioralyte Standard £3.55/6 sachets and Dioralyte Relief £3.95/6 sachets) suitable for both children and adults, should be a summer holiday essential for every family.
Insect repellent - prevention is always better than the cure.
Topical antihistamine - no matter how well you apply repellent you might still get bitten. Pack a topical antihistamine cream ( Anthisan Bite & Sting £3.35/20g) to provide relief.
Eye drops - swimming pools are a common cause of eye infection while abroad. Ask your pharmacist for suitable eye drops which could treat an infection (Brolene Eye Drops £4.70/10 ml).
Sun protection lotion SPF 15 or higher - sunburn is not only painful and unsightly but carries a very real risk of skin cancer. Cover up with loose fitting, long sleeved clothes and use a high factor sun screen to protect your skin.
Aftersun lotion - if you do burn, apply an aftersun lotion to help soothe and cool the skin
Antiseptic cream, plasters and dressing - cuts and scrapes can easily get infected so wash the wound, apply antiseptic and cover with a plaster to minimise the risk.
Don't forget to pack any regular medication, and remember to take enough supplies to last the duration of your stay.
All products are available from pharmacies nationwide.
For more information please call 01202 449271