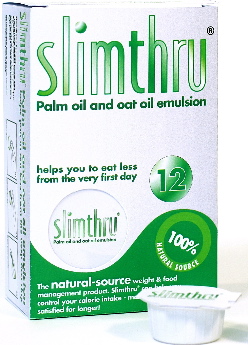 What is really difficult if you are trying to shed a some weight, is feeling hungry between meals. As someone who rises early (and therefore has breakfast early!) I find I'm usually rather peckish by mid-morning. So I was certainly up for trying Slimthru which claims to make you feel fuller for longer so you lose those pounds without too much effort!
Slimthru is not a meal replacement or supplement nor is it an appetite suppressant drug. It is a creamy liquid in a little pot that looks like the ones used for milk in cafes and hotel rooms. It's made from 100 per cent natural ingredients including palm and oat oils.
Basically you have one of these little pots with breakfast and one with lunch. Slimthru is digested so slowly, you feel fuller for longer and hence no snacking between meals!
I found the taste a little strange at first (as I didn't add it to anything but took it neat) but soon got used to my little pot - discreet enough to pop into your handbag and, if you add it to your food or beverage, it just looks like a milk substitute.
The main thing is Slimthru works! Hunger pangs mid-morning and afternoon became a thing of the past, and although I only took it for 12 days, it seemd to break the snacking habit for me! At the end of my 12-day trial I had lost nearly two kilos which is the healthy time/weight loss ratio.
Slimthru is available in packs of 12 or 30 (from £12.29) from leading retailers and pharmacies (that works out at just over £2 per day - how much do you spend on snacks?).