Weighing and measuring helps children see a practical application of maths and, if they are old enough, they can read the ingredients and find them for you. Cooking with children gives you time to share thoughts and catch up on what is going on in their lives.

Carrot, honey and raisin cake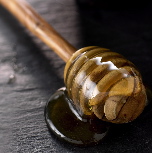 Makes 16 slices
This popular cake is lower in sugar than traditional versions as honey is substitited for some of the sugar. The wholemeal flour, carrots and raisins all provide extra fibre.
You will need:
3 carrots
125g (4oz) self-raising flour
125g (4 oz) wholemeal self-raising flour
1 tsp (5ml) baking powder
1 tsp (5ml) cinnamon
25g (1oz) brown sugar

85g (5oz) honey
3 eggs
1 tsp (5ml) vanilla extract
125ml (4fl oz) sunflour oil
85g (3 oz)raisins
2 to 3 tbls milk
Preheat the oven to 170 degrees C/ 325 degrees F/ gas mark 4.
Line a 20 cm (8 in) round cake tin with greaseproof paper and brush with a little oil.
Peel and grate the carrots on a chopping board.
Place the flours, caking powder, cinnamon and sugar in a bowl and mix together.
Put the honey, eggs, vanilla, and oil in a separate bowl and mix together with a whisk or fork. Add to the flour mixture and mix well. Stir in the grated carrots and raisins with a metal spoon. Add a little milk to give a fairly soft consistency.
Spoon the cake mixture into the lined tin.
Bake for about one hour. Check that the cake is done by inserting a skewer or knife into the cake.
Leave the cake to cool in the tin for tne minutes, then loosen the sides and turn out on to a wire rack. Remove the lining paper and leave to cool.
The Honey Association has got together with nutritionist Anita Bean, who demonstrates how easy it is to incorporate natural, healthy ingredients into child-friendly recipes in a free glossy booklet called Honeytime Anytime, available on request via email: info@honeyassociation.com