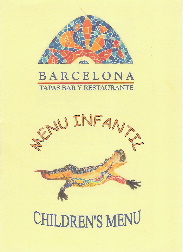 The Barcelona Tapas y Restaurante is a family-run business and at the core of their philosophy is the belief that children should learn to eat well - and be well catered for!
Having just celebrated their tenth anniversary, the restaurant has just launched a new children's menu - Menu Infantil - to encourage children to try new foods or foods they are familiar with presented in a different way.
The restaurant has a relaxed atmosphere and represents great value for money. If you are planning to take your family to Spain - this is a wonderful place to introduce them to the delights of Catalan cuisine!
The menu for children up to ten years of age costs £3.95 and includes three dishes from:
Papatas - fried potatoes
Mini albondigas (mini ,eatballs)
Mini chicken croquettes
strips of cod in breadcrumbs
Rice - plain or with sofrito (cooked Spanish tomato sauce)
Tomato and lettuce salad with carrot batons
Huevos estrellados (fried egg and chps)
To finish the meal there's a choice of novelty ice creams. Children's drinks are £1.
And to keep the kids occupied while you are sampling the tapas to die for, there's a dot-to-dot and maze to complete on the menu. There is outside seating and the mosiacs inside are pleasing to both adult and child's eye!
Barcelona Tapas y Restaurante, 481 Lordship Lane, SE22 8JY
Bookings
Tel: 0845 4900 512 or reservations@barcelona-tapas.com