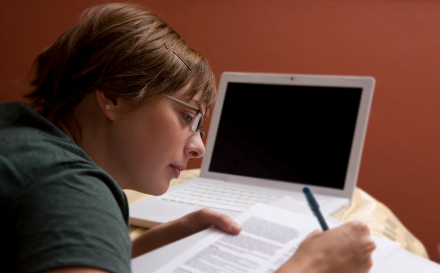 I imagine there are parents all over the country reading your letter and thinking "if only!". Most of us have to nag our offspring into revising and impose curfews to stop them socialising too much during the revision and exam period!
However you are right to be concerned about your daughter – all work and no play won't be good for her and could even be counterproductive.
Anxiety may make her studying less effective as well so one of the first things is to help her to relax. If she does all her studying in her bedroom perhaps you could have a cut-off time when she stops and joins you in the sitting-room, maybe to watch a favourite programme or DVD or just chat.
A relaxing bath before going to bed, with some lavender bath additive should help her to wind down as well.
Exercise is really important – mentally and physically. It could be just a walk in the park, a swim or whatever sport she enjoys. Emphasise to her that to perform well in exams you need to be physically fit as well. This also means eating lots of fruit and vegetables, drinking plenty of water and avoiding caffeinated drinks.
She may need help planning her revision time effectively. If this is the case, work with her on her timetable, breaking her studying down into manageable chunks. Research has shown that our brains work best in about 40 minute sessions. So after 40 minutes she needs to do something different like have a snack and/or a drink, move into a different room or listen to some music for ten minutes or so then return to revising.
She really does need to see her friends. One evening at the weekend could be devoted to socialising. It can also be very beneficial to revise with a friend (as long as they don't wind each other up!). Suggest she invite someone home to revise and then have a meal together.
Another trick that many very successful people do is visualisation – they visualise themselves winning the race/succeeding in their field. Your daughter could practise seeing herself in an exam room and calmly working well at the paper.
Most of all carry on being reassuring and remind her of all her past successes and achievements, when she may have been anxious beforehand but did well.

Anne Coates answers parenting questions for The Scotsman where this article first appeared.