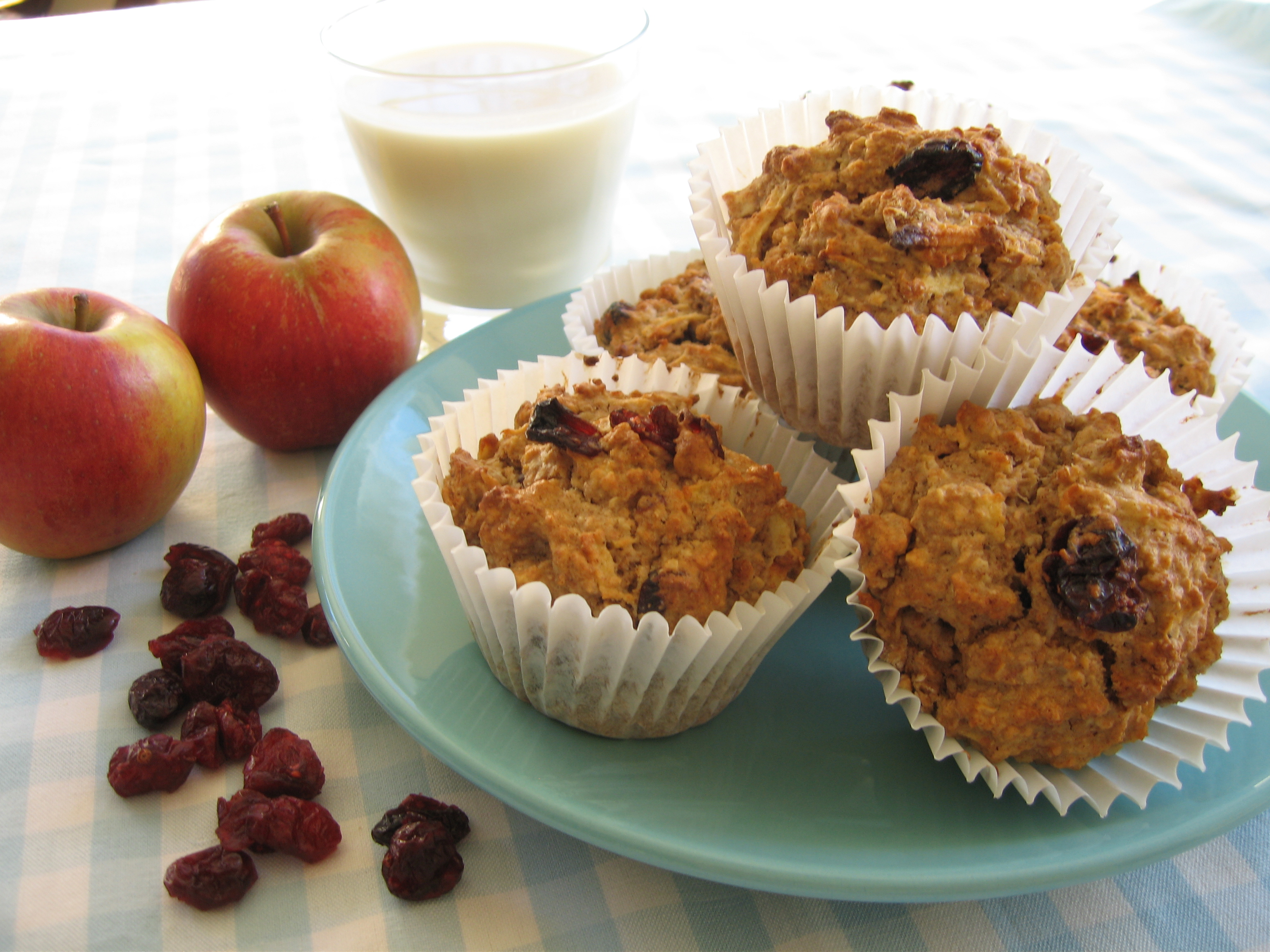 Aprons on! Cooking is great for children to see the practical applications of weighing and measuring (maths) and following the instructions (reading), plus they'll begin to learn what goes into the food they eat.
This recipe comes from Oatly, a substitute for cow's milk. If you don't have to worry about a dairy intolerance or allergy in the family use your ordinary milk instead.

Ingredients for 12 large muffins - perfect for breakfast or brunch or adding to lunch-boxes.

250g plain wholemeal flour
115g porridge oats
3 tsp baking powder
1 tsp ground cinnamon
1 tsp mixed spice
75g soft light brown sugar

100g dried cranberries
300ml Oatly oat drink
5 tbsp sunflower oil
1 large egg
1 tsp vanilla extract
2 dessert apples
Heat the oven to 190C/375F/gas mark 5. Place muffins cases in a deep muffin tin.
In a large bowl mix together the flour, oats, baking powder spices, sugar and cranberries.
Whisk the Oatly oat drink, oil, egg and vanilla extract together. Peel and grate the two apples.
Add the liquid ingredients to the dry ingredients with the grated apples and quickly fold together with a large spoon or spatula, but do not over mix.
Spoon the batter into the cases. Put the tray into the heated oven and bake for 20 minutes until risen and golden.
Transfer to a wire rack to cool. Best eaten the same day of making, but are still moist the next day if stored in an airtight container.
Oatly drinks come in four varieties (Chocolate, Enriched, Organic and Dairy-Free Alternative to Cream) and are lactose, milk protein and soya free so they're great for anyone who suffers from milk protein allergy, lactose intolerance and/or an allergy to soya.
Oatly stays fresh for four to five days in the refrigerator after opening.
Available from major supermarkets and health food stores.